Watch The Curse on Channel 4 from Anywhere
Want to watch British TV from anywhere?
Simply install the Beebs extension
Get Beebs for Chrome

Seemingly out of nowhere, Channel 4 is premiering one of the best British television productions of the year. Based on real events, The Curse takes place in East London in the 1980s, where a gang of hopeless crooks become embroiled in a major gold heist.
There's a lot to love about this well-put-together comedy-drama. With its stylised shooting, detailed set design, and clever dialogue, viewers will certainly be forgiven for picking up a certain 'Guy Ritchie-esque' vibe.
It doesn't matter if you you live in the USA, Canada or Australia, we've made it possible stream Channel 4 programmes like The Curse from absolutely anywhere.
Simply install Beebs and you'll be good to stream The Curse when it comes available on All 4 on 6 February 2022.
---
Best way to stream The Curse online in a couple of clicks:
Once these the above 3 steps have been completed. All the TV shows and movies found on the All4 streaming platform are available to be streamed.
It really is that easy.
---
What is The Curse (TV Series) About?
The Curse is loosely based on the infamous Brink's-Mat robbery of 1983 in which over £26 million worth of gold bullion, diamonds, and cash was stolen from a warehouse near Heathrow Airport in London. The incident has been described as "the crime of the century".
The gang of robbers who pulled off the crime thought that they were going to steal around £3 million in cash. However what they found instead was 3,000 kilograms of gold bullion and stole £26 million worth of gold, diamonds, and cash. The robbers were quick to realise they'd executed a heist for which they are drastically under-qualified.
The Curse takes a great deal of inspiration from this real heist and makes it fit for a TV comedy-drama. With the gorgeously rendered visuals along with its fitting 80s soundtrack featuring the likes of Talking Heads, Cult and Talk Talk, viewers are immersed in London of that time.
Who is in the Cast of The Curse
The cast of The Curse is an energetic mix of well-known British talent along with a handful of up-and-comers. Those familiar with the BBC Three's People Just Do Nothing will recognise many of the faces.
The Curse is focused upon the gang of robbers is firstly made up of cash-strapped cafe owner Albert (Allan Mustafa) and his wife Natasha (Emer Kenny of Eastenders and Father Brown fame). They are joined by their friends Sidney Wilson (Steve Stamp), Big Mick Neville (Tom Davis) and Phil Pocket (Hugo Chegwin) in the attempt to rob the warehouse where Sidney works.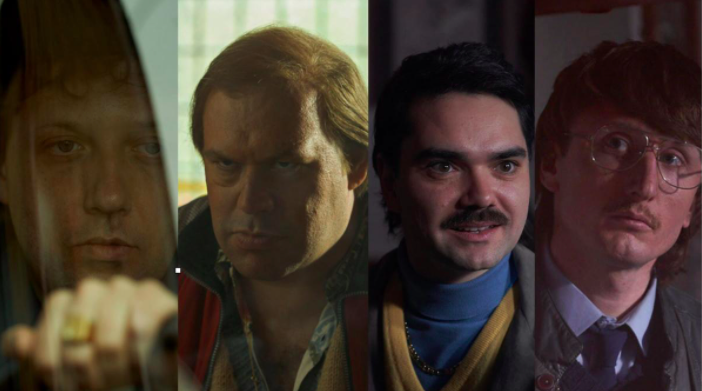 Want to watch British TV from anywhere?
Simply install the Beebs extension
Get Beebs for Chrome