How to Stream Escape to the Country on the BBC from Outside the UK
Want to watch British TV from anywhere?
Simply install the Beebs extension
Get Beebs for Chrome

Ditch the low-res Youtube videos and glitchy streams, there's an easier way to stream episodes of Escape to the Country directly on BBC iPlayer.
Since 2002, Escape to the Country has helped hundreds of city-dwellers achieve their ambition of finding their dream home in the rural UK.
At Beebs, we want to help you escape from the poor quality options you've been forced to use to watch episodes of Escape to the Country.
By installing Beebs, anyone can access the BBC One live on the BBC iPlayer service. Even if you're living or travelling outside the United Kingdom, you'll have no problems.
Once you become a Beebs subscriber, not only can you stream all the current Escape to the Country episodes, you'll be free to binge whatever else is found on the BBC streaming platform.
---
The Dream is Here! This is Where to Watch New Episodes of Escape to the Country:
All it takes is half a minute to register to the BBC iPlayer, and you'll get the full access to the online BBC streaming service.
Happy viewing!
---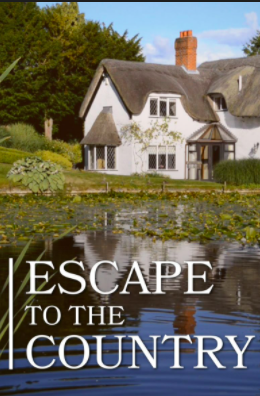 Why Choose Beebs?
Let's not mince our words here. If you live outside the UK  and want to stream new and classic British television programmes, then Beebs is easily best option for you.
However, we're sure you've heard of Britbox and AcornTV, since both offer access to content from the UK. Although both platforms have a growing catalogue of British television programmes, it must be said that it's still leaves a lot to be desired.  
The BBC, ITV and Channel 4 will sell the rights to their shows to the highest bidder. And since Netflix and Amazon have bigger budgets, they often steal away content from Britbox and AcornTV.
When you subscribe to Beebs, you're guaranteed to watch new episodes of your favourite British TV shows at the same time as they're released to the UK public.
Beebs - The Home of Escape to the County Streaming
Once you have Beebs locked and loaded in your browser, you'll have the freedom to stream Escape to the Country however way you want.  
Did you know the BBC produces two versions of each episode of Escape to the Country? There's a shorter 45-minute version with only 3 houses shown which airs on BBC One on weekday afternoons. The longer 60-minute version appears on BBC Two at a later time slot in the evening.
This is a British daytime television programme that shows absolutely no signs of slowing down, even after 22 seasons and over 600 episodes. Host Jules Hudson has become the face of the programme ever since he appeared in his first episode back in 2007.
Viewers can also find Jules on another BBC One programme called Countryfile. This is a weekly programme that reports on rural, agricultural, and environmental issues in the United Kingdom.
Countryfile is just one of many hidden gems unlocked by Beebs subscribers.
---
Want to watch British TV from anywhere?
Simply install the Beebs extension
Get Beebs for Chrome