Best Way to Watch Mrs Brown's Boys on BBC iPlayer from abroad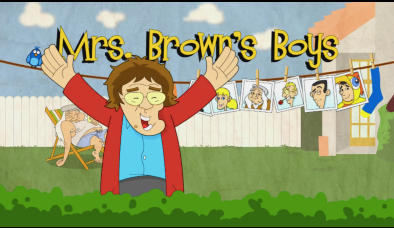 Want to watch British TV from anywhere?
Simply install the Beebs extension
Get Beebs for Chrome

If you want to stream episodes and specials of Mrs. Brown's Boys on BBC iPlayer, we're here to help!
The television sitcom had been in a decline in Ireland and the UK for some time before Mr's Brown's Boys came along. But with its clever comedic twists and an unrelenting energy, the series breathed new life into the once stale sitcom formula.
People were quick to fall in love with Brendan O'Carroll's character–the loud mouthed Irish matriarch, Agnes Brown, whose favourite pastime is meddling in the lives of her six children.
When you try to log on to the BBC iPlayer service and stream Mr's Brown's Boys from overseas, you'll be quick to realise that it's not possible. It's nothing personal. The BBC blocks everybody located outside the UK.
By installing Beebs, anyone can access BBC iPlayer from anywhere. So if you want to start streaming Mr's Brown's Boys, just get your hands on Beebs and you'll be doing so in no time.
---
This is how to stream full episodes of Mrs Brown's Boys online from anywhere:
All it takes is half a minute to register to the BBC iPlayer, and you'll get the full access to the BBC streaming service BBC iPlayer.
---
Mrs. Brown's Boys is an Irish-British television sitcom created by Brendan O'Carroll. Three series ran between 2011-2013, with Mrs. Brown's Boys Specials coming almost yearly.
Fans were very loyal and totally obsessed. Three series and countless specials later, it's safe to say that people are still obsessing over Mrs Brown's Boys. The Mrs. Brown's Boys Christmas Specials are still huge ratings hits for the BBC.
Plenty of Comedy on BBC, ITV and Channel 4
You've hit the jackpot. As a Beebs subscriber, not only can you raid the BBC's very deep archive of English comedies, but you've also got full access to what's to be found at ITV Hub and Channel 4.
The BBC is the biggest and best source for a laughter. Their catalogue of comedies is brimming with classics such as Blackadder, Fawlty Towers, Ab Fab and .. to name just a few. Plus the broadcaster keeps creating new comedies that keeps the laughs coming.
Now, since there's so much on offer it can be hard to find exactly what you're in the mood for. Well, we're here to make things a little easier for you.
Be sure to check out our list of The 10 best English comedy box sets to watch online in 2021 for guaranteed sources of laughter.
Want to watch British TV from anywhere?
Simply install the Beebs extension
Get Beebs for Chrome