Watch Big Boys on Channel 4 from Outside the UK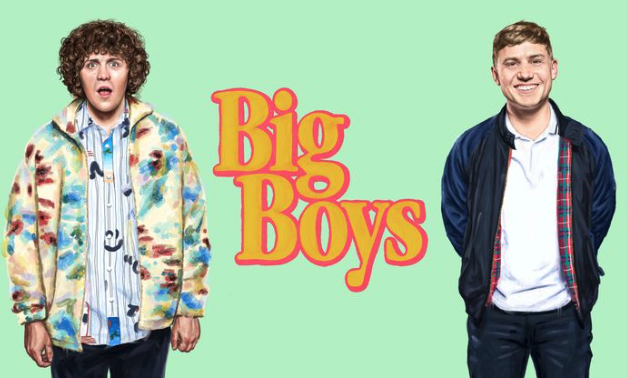 Want to watch British TV from anywhere?
Simply install the Beebs extension
Get Beebs for Chrome

Available to stream on All4 now, Big Boys is a British comedy series from the creative mind of writer and stand-up Jack Rooke.
The semi autobiographical show, based on Rooke's plays, takes us back to the early 2010s and into the world of his uni days, where cheap booze and bad music abound.
If you want to watch Big Boys from outside the U.K., simply install Beebs.
You'll gain immediate access to All4 and its entire catalogue, along with British streaming channels ITV and BBC.
---
Stream Big Boys (TV Series) on the BBC from abroad:
It doesn't matter if you're living in the UK or not – access to the Channel 4 streaming service happens in an instant.
---
Premiere Trailer of Big Boys on All4
Check out the trailer for Channel 4's brand new comedy-drama series and get a taste of what to expect. If it's as good as Derry Girls, we'll be binging the whole season in one sitting.

What is Big Boys all about?
With a typical coming of age format, our protagonist Jack, played by Derry Girls' Dylan Llewellyn, starts out as a socially awkward, unworldly, but instantly likeable 'nerd type', whose life is wryly narrated by the real Rooke.
In episode one, we watch as he struggles with the recent loss of his dad, managing his grief with peak-2010 morning TV, consuming a rosta of This Morning, Jeremy Kyle, and Loose Women in the company of his mum Peggy (Camille Coduri).  
After deferring from university for a year, Jack is ready for the next step. He is driven the literal 15 minutes down the road to Brent University, where he embarks on a figurative journey into adulthood by way of highs, hangovers, unlikely friendships, and cringe-inducing sexual encounters.
Why is Big Boys worth a watch?
Though second-hand embarrassment is pretty much unavoidable for viewers—there is a scene with some ashes which is particularly horrifying—the show balances on-the-edge crassness with moments of real poignancy.
The story depicts the blossoming of a heart-warming friendship between Jack and Danny, who at first appear to be polar opposites, but prove to bring out the best in each other.
Watching the evolution of their friendship feels special as they support each other through that excruciatingly uncomfortable but necessary period of figuring out who they are.
Topics such as mental and sexual health are covered honestly and sensitively, though with plenty of humour. At points, the writing is dark and dry. However, at other times it captures pure silliness and is almost Inbetweeners-esque​​—though with a more informed, contemporary gloss.
Who stars in the cast of Big Boys?
It's easy to become invested in the lives of the two main characters, though the supporting characters shine just as bright. Olisa Odele of Chewing Gum fame plays Yemi—a queer, stylish, and ultimately much cooler twenty-something, who becomes somewhat of a mentor to Jack (he introduces him to Grindr and explains to the mechanics of taking a flattering dick pic).
Comedian Katy Wix is at her best as Jules, the wonderfully tragic student rep who gets more wasted than the students, and is responsible for many of the show's peak-cringe moments. Izuka Hoyle (The Outpost) plays the driven but somewhat uptight Corrine, who never holds back when it comes to calling out people on their bullshit, and Harriett Webb (I May Destroy You, Sandylands) is understatedly funny as the brash but endearing cousin Shannon.
Frequently asked questions
Every episode of the new comedy series Big Boys is able to be watched online on the Channel 4 streaming website. This can be accessed worldwide with Beebs in a couple of clicks using just Chrome Browser.
Big Boys will have 6 episodes in its first season which will be available to watch on All4 on demand. Gain access to these episodes from abroad using Beebs.
Want to watch British TV from anywhere?
Simply install the Beebs extension
Get Beebs for Chrome